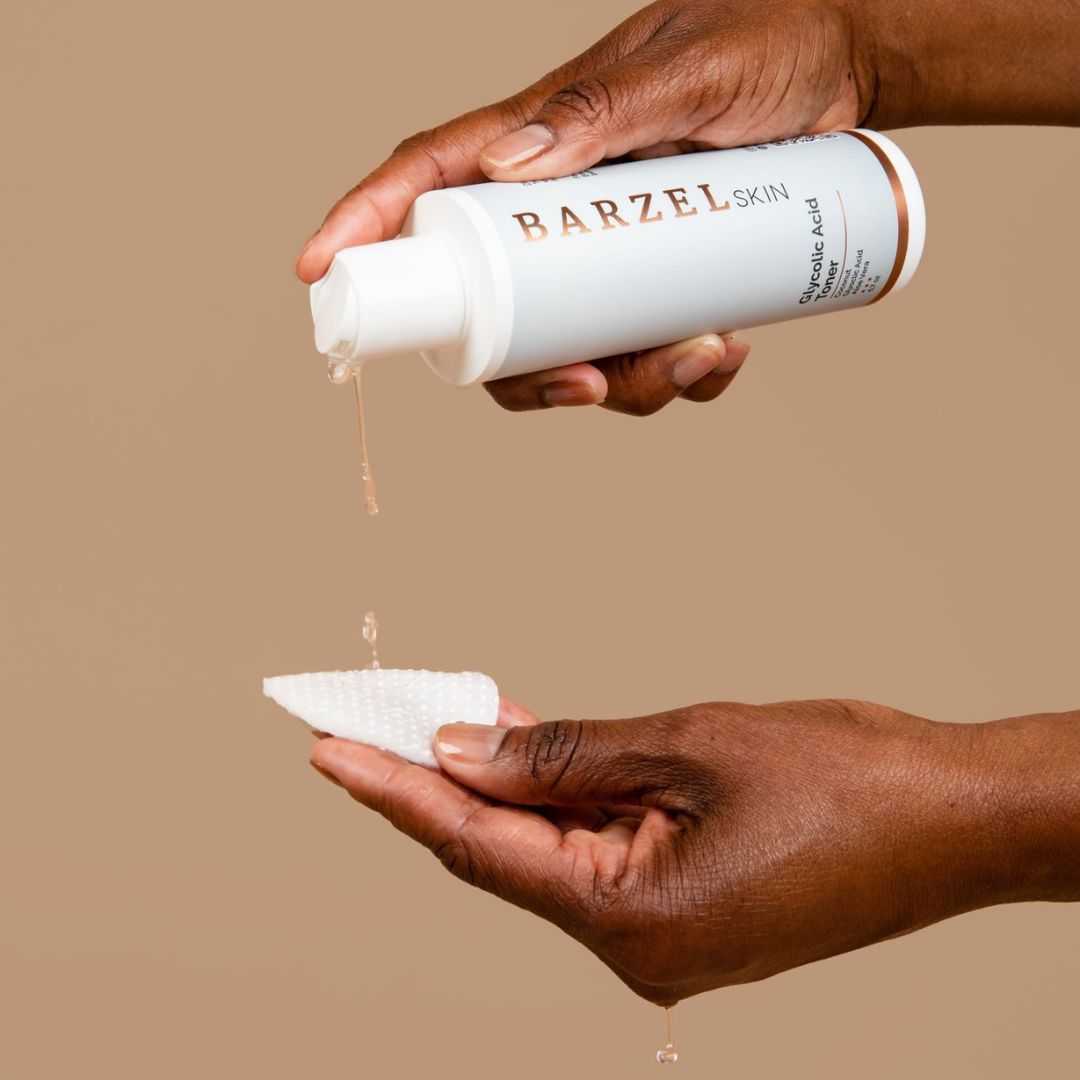 Glycolic Acid Toner 6.7oz
Introducing our revolutionary Glycolic Acid Toner with Coconut Extract and Aloe Vera – a powerful skincare solution that will transform your skincare routine and leave you with radiant, hydrated, and rejuvenated skin.
How to Use:
After cleansing, apply the Glycolic Acid Toner to a cotton pad and gently sweep it across your face and neck, avoiding the delicate eye area. Use it in the evening, 2-3 times per week initially, and gradually increase the frequency as your skin adjusts. Always follow up with a moisturizer and sunscreen during the day to protect your skin.
Experience the rejuvenating power of glycolic acid, coupled with the soothing benefits of coconut extract and aloe vera. Say goodbye to dull, tired-looking skin and embrace a radiant, revitalized complexion with our exceptional Glycolic Acid Toner. Your journey to healthier skin starts here.
Premium Luxury Ingredients: At Barzel Skin, we believe that only the finest ingredients should touch your skin. We are dedicated to using top-quality, ethically sourced, and luxurious components that deliver real, visible results while respecting your skin's health.
100% Vegan: We are proud to offer a 100% vegan skincare range, free from any animal-derived ingredients. Our products are created with compassion, making them suitable for vegans and those who cherish cruelty-free alternatives.
Paraben-Free: Our commitment to your well-being extends to ensuring that our products are free from harmful chemicals like parabens. By avoiding these additives, we prioritize your skin's long-term health and safety.
Cruelty-Free: Barzel Skin is a brand built on compassion. We firmly stand against animal testing, and our products are never tested on animals. Our commitment to cruelty-free practices reflects our belief in treating all living beings with respect and kindness.
Made in the USA: We are proud to be an American brand, with our products carefully formulated and manufactured in the USA. This allows us to maintain the highest standards of quality, safety, and efficacy in every product we create.
The Glycolic Acid Toner with Coconuts, Aloe Vera, and Watermelon Extract offers a myriad of key benefits, providing a comprehensive and rejuvenating skincare experience:

key ingredients:

Glycolic acid gently exfoliates the skin's surface, effectively removing dead skin cells, unclogging pores, and promoting a smoother and more even complexion.

Coconut and watermelon extracts infuse the skin with essential vitamins, antioxidants, and hydration, leaving it moisturized, supple, and glowing.

Aloe vera's soothing properties help to reduce redness, inflammation, and sensitivity, making it ideal for soothing and calming irritated skin
New Arrival
Revitalize Your Skin
Discover the secret to radiant, younger-looking skin with Barzel's Luxurious Skincare range. A perfect blend of nature and science, our products are specially formulated to provide nourishment and rejuvenation that your skin deserves.