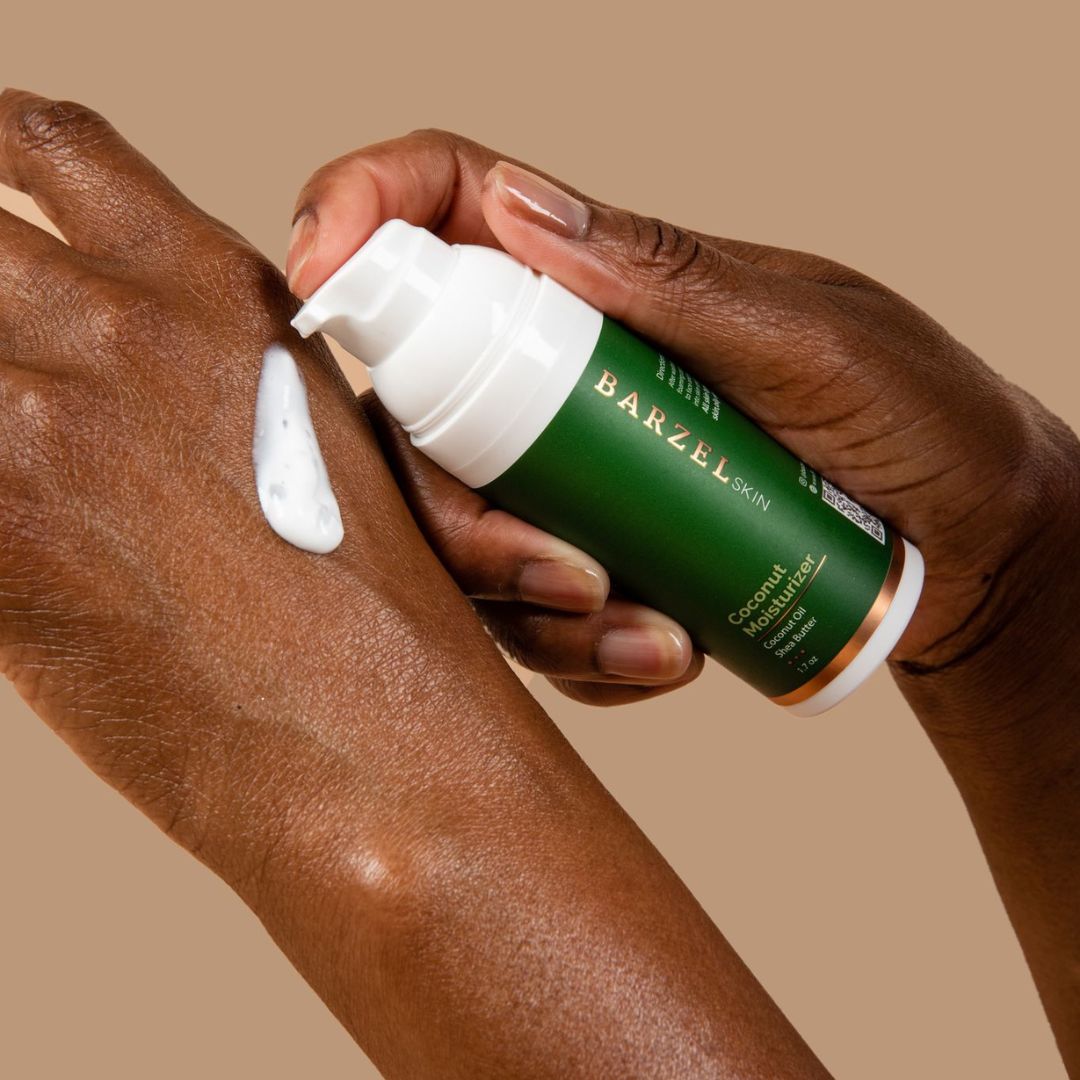 Coconut Moisturizer with Shea Butter 1.7 oz
Introducing the Barzel Coconut Moisturizer with Shea Butter – a luxurious and nourishing skincare essential that will leave your skin feeling soft, supple, and deeply hydrated.
Premium Luxury Ingredients: At Barzel Skin, we believe that only the finest ingredients should touch your skin. We are dedicated to using top-quality, ethically sourced, and luxurious components that deliver real, visible results while respecting your skin's health.
100% Vegan: We are proud to offer a 100% vegan skincare range, free from any animal-derived ingredients. Our products are created with compassion, making them suitable for vegans and those who cherish cruelty-free alternatives.
Paraben-Free: Our commitment to your well-being extends to ensuring that our products are free from harmful chemicals like parabens. By avoiding these additives, we prioritize your skin's long-term health and safety.
Cruelty-Free: Barzel Skin is a brand built on compassion. We firmly stand against animal testing, and our products are never tested on animals. Our commitment to cruelty-free practices reflects our belief in treating all living beings with respect and kindness.
Made in the USA: We are proud to be an American brand, with our products carefully formulated and manufactured in the USA. This allows us to maintain the highest standards of quality, safety, and efficacy in every product we create.
Key Ingredients:

Coconut Oil: Extracted from the tropical coconut fruit, coconut oil is rich in fatty acids and antioxidants, making it an excellent moisturizer for the skin. It forms a protective barrier, locking in moisture and preventing water loss, keeping your skin hydrated throughout the day. Additionally, its antibacterial properties help to soothe and calm irritated skin, promoting a healthy and clear complexion.

Shea Butter: Sourced from the African shea tree, shea butter is a natural emollient that is deeply moisturizing and nourishing. Packed with vitamins A, E, and fatty acids, it helps to repair and rejuvenate the skin, while also providing a protective layer that seals in moisture. Shea butter is particularly beneficial for dry and sensitive skin, as it soothes inflammation and promotes a smoother, more supple texture.
New Arrival
Revitalize Your Skin
Discover the secret to radiant, younger-looking skin with Barzel's Luxurious Skincare range. A perfect blend of nature and science, our products are specially formulated to provide nourishment and rejuvenation that your skin deserves.